Your average consumer scanner works well for scanning normal printed or handwritten documents, usually anything up to Letter or A4 size. For something a bit larger, say Legal or Tabloid size, one can try to scan the document in segments, but the scanner's lip, which is great for aligning smaller documents, becomes a major hindrance, and one usually resorts to scanning the document using a copy machine if one has access to one. This is fine until one has a document that is too big for a copy machine, e.g. what I wanted to scan—old maps. They're too big to fit in a scanner or copy machine even if one tried to fit part in at a time; besides, one shouldn't try that since they're old and irreplaceable. One could photography them, but one needs a scanning back camera to get anywhere near comparable resolution, which are really expensive. That is where this modification comes in—modifying a low-cost, off-the-shelf consumer scanner to scan arbitrarily large documents in segments, which are then assembled via software.
We start with a Canon LiDE 90 scanner, although any scanner in the Canon LiDE series will do as they're all similar.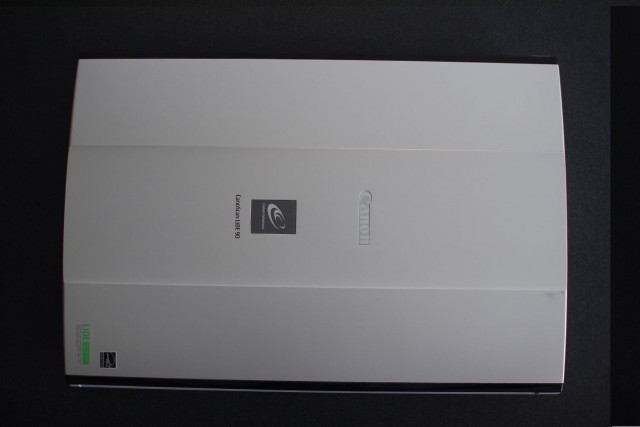 First, we need to remove the lid, which can be done without too much effort by pushing on the center of the piece of plastic that connects the lid to the hinge on the scanner. Next, the lip around the scan glass needs to be removed. It is attached with small plastic tabs as well as adhesive near where the control buttons are. Since we won't be needing this anymore, it's easiest just to pry this off. With the lid and bezel removed, observe where plastic still sticks up above the scan glass; then, carefully remove the scan glass, and put it in a safe place. Next, using whatever cutting tools seem appropriate, cut away the rest of the plastic that sticks above the glass, being careful not to cut oneself or cut away the plastic that the scan glass rests on. For this, I used a small cut-off wheel and a razor blade. Now replace the scan glass, making sure it is free of dirt and fingerprints. During disassembly, one should have noticed that the back of the bezel piece that was glued to the glass was white; this is for calibration and needs to be replaced by cutting a strip of photo paper the same size. Place the strip of photo paper above where the scan element's home position is, printable size down. Finally, tape this strip and both end of the glass to the scanner using strips of packing tape.
One is left with a scanner that can lie flush, glass-down on a table.
To scan large documents using the modified scanner, place the document face-up on a flat surface. Then, place the scanner glass-down on top of the document and scan it in segments, ensuring sufficient overlap between scans.
Finally, stitch the scanned segments together. Recommended methods include following a tutorial using Hugin or using a script I wrote to try to automate the process.
Here is a result of the process—a 1915 map of the Homewood area of Baltimore. The map was scanned in 20 segments at 600dpi, resulting in a final image resolution of just under 500 megapixel.
Thank you to Paul Espinosa at the George Peabody Library for letting me scan the map from their collection.